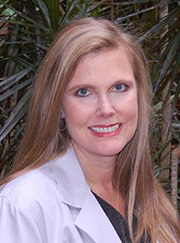 Susanne K Woloson, MD, PhD, RPVI is a Board Certified ​Vascular Surgeon with a PhD in Molecular Biology. She earned her combined MD and PhD degrees from Chicago Medical School after completing her Bachelor of Science Degree in Biochemistry from University of California, Davis. Dr. Woloson received her General Surgery training at the University of Chicago (1993-1998), followed by Fellowship training in Vascular Surgery at Loyola University (1998-2000). She has been in private practice since July 2000.
​Dr. Woloson specializes in minimally invasive ​varicose venous treatments. Throughout her career, she has always been interested in Venous Disease, with her practice focusing on the newest technologies. In fact, since 2005, she has been one of the first board certified ​Vascular Surgeons performing minimally invasive Endovenous ​Vein Ablations (EVLTs). Having completed over 9​000 laser ablations, Dr. Woloson is one of the most experienced Varicose Vein surgeons in the Midwest. She is a member of the American College of Phlebology, and continues her education and training through attending national meetings and conferences focusing on Venous Disease.
Dr. Woloson prides herself in educating her patients about their diagnoses and treatment options. She dedicates time during consultations to answer all questions and concerns. Patients have noted that she responds to her phone calls quickly and even calls with results on the day of their exam.
With her expertise, Dr. Woloson will continue to provide the most up-to-date treatment options for minor cosmetic spider veins, as well as the most complex varicose ​vein problems.