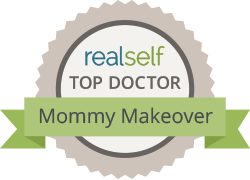 The Mommy Makeover – Not every mom can look like supermodel Heidi Klum after having three kids and parade down the Victoria Secret runway in a tiny bikini and bra. In fact, most women don't have such a smooth transition from pregnancy to motherhood. Many return to or start a regular workout regime to lose the extra baby weight and some go on diets to get their bodies to look like they did nine months ago. But even all of these efforts can't help some moms get back into shape and they are surprised to see their body change so dramatically after pregnancy. Sometimes plastic surgery is the only option for mothers to revert back to their pervious figure.

Many mothers turn to the "mommy makeover," which reconstructs both the abdomen and the breasts. Depending on the severity of the changes, there are several options for women. To reconstruct the tummy, there are several different options available at my practice. After pregnancy, some mothers only find the skin on their stomach to be somewhat stretched and don't experience much weight gain. In this case, a noninvasive treatment is usually the best—Thermage can be used to shrink the skin. This is a non-surgical skin tightening device that utilizes microwaves to contract collagen. For those who only have a little outstretched skin and small amount of extra fat, CoolLipo laser liposuction can be an excellent choice. This minimally invasive procedure will break up and eliminate fat cells, while at the same time, promote skin tightening. All this without scars.
There are two more invasive alternatives for moms whom had more dramatic weight gain. The first is mini abdominoplasty, which is for those who have some residual fat after pregnancy and a lower abdominal skin overhang. In my practice, this is typically 10 to 20 percent of my post-pregnancy patients. During this procedure I only make a lower abdominal incision, unlike in a traditional tummy tuck, the navel would not be repositioned making women virtually scarless in the bikini. A full tummy tuck is the most popular abdominal procedure for mothers and is best for women who have gained a lot of weight and have a large amount of extra skin. This will transform the abdomen from the chest belly button down. During the two and a half hour procedure, the excess skin is removed, muscles are tightened and liposuction is performed to sculpt the stomach back into shape.
For the sake of efficiency and time, these procedures are sometimes combined with either a breast reduction or augmentation and lift. The joint procedure only takes about four to five hours. It provides the patient with many advantages: they only have to undergone one operative procedure and anesthesia, the combined operative time and recovery is shorter than doing the procedures separately, and it's more affordable.
Unlike the abdomen, nothing can be done for the breasts without surgery. Though there is some research being done with injecting fillers such as Juvederm or fat into the breasts, neither option had been approved in the United States. Typically after pregnancy and breastfeeding, women lose volume in their breasts and they tend to sag. Many mothers require a reduction to remove the extra skin that was stretched out when the breasts were engorged with milk. Others need augmentation to morph the breasts into their shape prior to pregnancy. And some are combined with lift to rectify the sagging. An advantage of these surgeries is they can be done at any time—prior to, in between, or after pregnancy—unlike a tummy tuck, which is typically done after all pregnancies. And if breast surgery is done prior or in between pregnancies, patients usually don't need the surgery again because extra support is provided and the breast won't lose its shape.
Pacjentki Dr Turowskiego: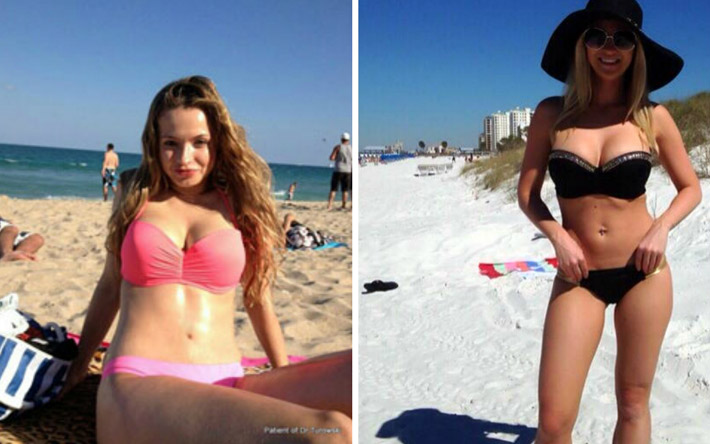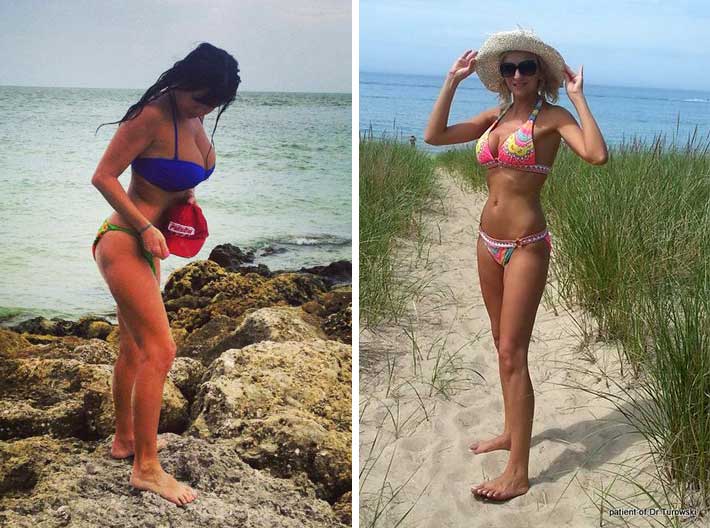 Mammy Makeover Testimonials
Recenzje i rekomendacje pacjentów